Welcome to the Famos Recipe Book. Keep coming back to this page because new recipes are being added all the time.
Onion Bhajis
Ingredients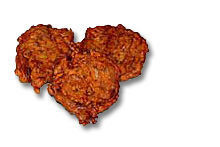 2 level cups Famos Gram Flour
1 teaspoon Famos Cumin Seeds
1 teaspoon crushed Famos Coriander Seeds
1 teaspoon Famos Salt
½ teaspoon Famos Chilli Powder
½ teaspoon Famos Bicarbonate of Soda
2 medium sized onions finely chopped
½ teaspoon vinegar
fresh mint leaves chopped lightly to taste
fresh coriander leaves chopped lightly to taste

Directions
Mix ingredients in a bowl with ¼ pint water.
Mix to a thick batter and set aside for 5 minutes.
Take a heaped tablespoon of the mix and drop carefully into hot oil in a deep pan.
Fry for about 3 minutes until the bhajis become crisp and golden.
Drain thoroughly on kitchen paper.

Instead of onions you can also use mushrooms, chopped courgettes, sliced aubergines, okra, chillies or potatoes.
---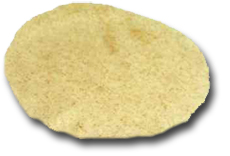 Chapattis (Unleavened Griddle Bread)
Ingredients
1 cup whole Famos Wheat Flour
1 cup water
Extra flour for rolling
Melted ghee for a brushing on the chapatti

Directions
Place the flour in medium sized bowl.
Add water, and stir and knead well until the dough has become cohesive, elastic and made into a nice big ball. If needed, add a little more water or flour to make the dough soft and elastic.
Divide dough into 5 equal balls a little smaller than a ping pong ball, and roll out very thin.
Add as much flour as needed to keep rolling.
You want the dough very thin (less than 1/8 inch) like a thin pancake (you can use a tortilla maker to flatten dough).
Transfer on to a griddle and cook one side for a few moments. Pick up and turn the flat chapatti so it cooks on the other side.
Cook more this time until pockets of air appear in the chapatti.
Turn the chapatti once again to the other side which was not cooked very much. This time the chapatti should puff up completely.
Brush it with a little ghee to give it flavor and help in digestion.

Chapatti making needs practice and patience but is well worth the effort as one can make the dough and keep it in the refrigerator (4-5 days) and pull it out to make fresh bread.
---
Chana Dahl Barley Pilaf
Ingredients (Serves 6)
¼ cup vegetable oil
2 Famos Bay Leaves
6 Famos Peppercorns
6 Famos Black Cardamom Pods, broken open
6 Famos Whole Cloves
¹/³ Famos Cinnamon Stick (1" piece)
1 ½ teaspoons Famos Cumin Seeds
1 ½ cups Famos Chana Dahl, cleaned, soaked in water for 2 hours and drained
2 ½ cups pearl barley
1 tablespoon Famos Salt
4 ½ cups water
Directions
Heat oil in cooker on medium-high heat.
Add bay leaves, peppercorns, cardamoms, cloves, cinnamon and cumin seed.
Stir for a few seconds till cumin seeds darken a few shades.
Add dahl.
Stir fry for about 3 minutes.
Add barley and stir fry till barley just begins to colour (approximately 3 minutes).
Add salt and water and stir.
Cover tightly and cook about 40 minutes.
Open, fluff, and discard bay leaves, cardamoms and cinnamon.

Serve hot with plain yogurt or raita (yogurt-cucumber dressing).
---
Vada Curry
Ingredients (Serves 4)
1 cup Famos Chana Dahl, soaked
2 green chilies, finely chopped
2 onions, finely sliced
1 tsp Famos Mustard Seeds
8-10 Famos Curry Leaves
2 tsp ginger garlic paste
2 tomatoes, finely sliced
2 tbsp Famos Gram Flour, mixed in 1 cup of water
1 tsp Famos Coriander Powder
1 tsp Famos Chilli Powder
½ tsp Famos Garam Masala Powder
Oil for frying
2 tbsp coriander leaves, chopped

Directions
Mix the chana dahl with salt, coriander leaves, green chilies and grind coarsely.
Heat oil in a frying pan, fry spoons-full of the chana dahl paste to make small vada.
Fry until golden brown, drain excess oil and keep aside.
Reheat 3 tbsp of same oil in another pan, add mustard seeds, chopped onion and fry until brown. Also add curry leaves and fry for 2-3 minutes.
Add ginger garlic paste, tomatoes, coriander powder, chili powder, garam masala powder, salt and fry until the oil separates.
Stir in Famos gram flour water and bring to a boil.
Now add the prepared vada, mix well, cover the pan and leave to simmer for 5-10 minutes.

Serve hot with any pulao or parathas.